In addition to the Halloween event, we will also release two new areas to MapleLegends!
Taipei 101


(credits to Yozich for the banner) (no we're not releasing LHC)
Monster level range: 67 ~ 100

This area is meant to represent the real Taipei 101 which is a skyscraper that can be found in Taipei, Taiwan. The NPCs at Taipei 101 are real life Taiwanese celebrities! Taipei 101 was exclusive to Taiwan MapleStory, until the Big Bang patch, when they replaced it with GMS's Kerning Square.
To get to Taipei 101, you first have to travel to Ximending by talking to Tito, found at the Kerning City Subway. Once in Ximending, you can find Blake directly to the left to take the metro to Taipei 101.
Taipei 101 contains a Hair Salon with new hair styles ...

and Plastic Surgery with new faces!
Boss
There is one boss at Taipei 101: Spirit of Rock. Be careful when you go to visit his map, because there is no escaping his attacks when you enter!

(Credits for the boss's black health-bar go to [USER=1989]Slime[/USER])
Monster drops
From all the drops at Taipei 101, the one that is worth mention is one never-seen before weapon that drop from Spirit of Rock; Toy of 101:
There's one more thing that the Spirit of Rock drops, but we will leave that for you to find out yourself!
Quests
The quests for this area haven't been fully translated yet, but as soon as they are, they will be added to the game as well. They are currently being translated as we speak.
Ninja Castle
Monster level range: 25 ~ 180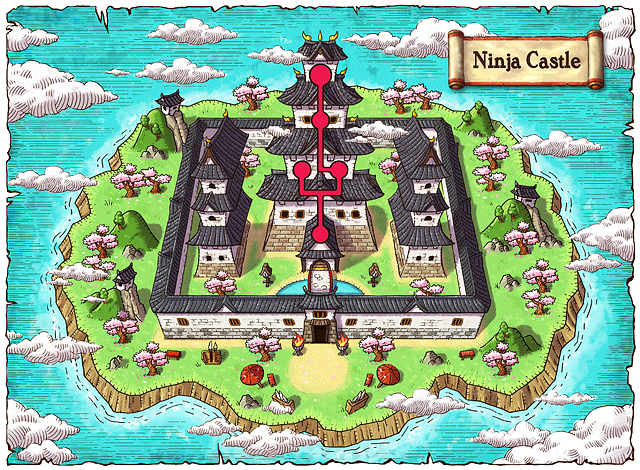 This area is located on an island in ancient Zipangu. Ninja castle is a castle filled with Ninjas and maze-like corridors, and also the mystique surrounding the Emperor.
To get to Ninja Castle, you must first look for a hidden portal at Mushroom Shrine to reach a place called Kamuna. In Kamuna you can find NPC Crystal, which allows you to travel back in time to Ninja Castle!
Bosses
There are two bosses at Ninja Castle: Kacchuu Musha and Castellan (Toad). Kacchuu Musha respawns every 11~15 hours, and Castellan every 20 hours~24 hours. To reach Kacchuu Musha, you must find your way through the maze that is the Ninja Castle. To reach Castellan, you must head even further, and brave your way through the infamous Ninja Castle Jump Quest.
Monster item drops
The mobs and bosses at Ninja Castle drop the same items they dropped in official servers. This includes a few scrolls that were previously only obtainable from Gachapon, as well as 6 scrolls that are newly being introduced to MapleLegends:

None of these scrolls will be easy to find though.
The only deviations from the official droplist is that the Stone Tooth Sword drop has been moved from Ninto to Castellan, and that Castellan drops a special chair (credits to [USER=1989]Slime[/USER] for making the chair prettier).
Quests
Lastly, Ninja Castle will be accompanied by the following quest-lines: